Agile Methods, a change in business philosophy
Today, we live in a very voracious and competitive professional scenario. Because of this, it is extremely necessary that companies are always up-to-date, to deliver projects effectively and quickly. It is necessary that the successful company adopts new ways to manage, innovate, and be responsive in order to achieve the planning of the project.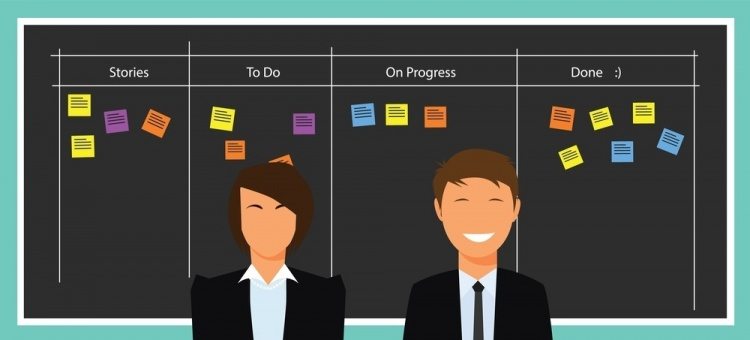 In the IT management, this could not be different. In this area, in order for projects to obtain the expected results, it is vital that they count on efficiency, safety, quality and speed. Because that is exactly where the Agile Methodologies come to be almost indispensable tools for the success of any management. Do you want to know the benefits of Agile Methodologies in IT? Then read this post and find out how to stay ahead of your competition!
Manifesto for Agile software development
Below, in its entirety, the agile manifesto released in 2001 created a new form of understanding and execution of projects that deal daily with inaccuracy and/or unpredictability, inherent features to the software development process and technology:

We are uncovering better ways of developing software by doing it ourselves and helping others to do so. Through this, we came to value:

Individuals and the interaction between them more than processes and tools
Working Software more than comprehensive documentation
Customer Collaboration more than contract negotiation
Responding to changemore more than following a plan
That is, even though there's value in the items on the right, we value the items on the left a lot more.
What can we call Agile Methodologies?
Since 2011, certain experts in software development processes, such as the XP methods (Extreme Programming) and Scrum, established some features and main standards. Thus, the "Agile Methodologies" have become more popular around the world.
But what are they about? These methodologies are a new form of software development and management, which focuses on its approach and in the planning for the empirical processes. The idea is to segment a problem into smaller elements.
Moreover, the collaboration of the development team is sought, along with the staff that is most specialized in business. Agile Methodologies seek to minimize the risk related to the uncertainties of projects and to unforeseen issues in a much more natural and faster way. These methodologies also provide better communication — and, most importantly, greater customer satisfaction.
What are the main concepts of Agile Methodologies?
Among the most obvious aspects of the new approach, there may be:
Fast software and executables;
Integration among people;
Rapid response to unforeseen issues and changes;
Customer collaboration.
What are the advantages of using Agile Methodologies for the IT management?
There are many advantages in using Agile Methodologies for IT management. The top four are listed below:
1. More independence and productivity for the team
Outdated structures inhibit creative thinking and have a negative impact on the productivity of the IT staff. When Agile Methodologies are used, there is an optimization of time and a profitability of the management, since you do not need to worry about contracts and extensive, complicated documentation, or with rigid tools that prevent a rapid response to unforeseen events.
Thus, the team becomes more independent and is better prepared for dealing with troubleshooting. That way, they do not waste more time as they used to with the use of traditional methodologies, and increase productivity.
2. Improvements in communication
These methodologies are designed to maintain a good relationship with developers and customers. For that to happen, everything is thought to facilitate and optimize this dialogue, and many followers prefer the personal conversations, to other forms of communication.
Besides, this technique has a good feedback practice. This means that the developer will always be aware of the customer information and of the code. This information is given for tests that indicate errors and possible ways of improvement.
3. Better definition of the goal
With greater integration, customer collaboration, feedback and software, it becomes possible to have a better definition of the goal, since all the main issues of a management becomes more clear.
Thus, the Agile Methodologies ensure a new approach, being more adapted to the constant changes that are seen today. All this contributes to a more effective planning for the management, since projects in this area need very fast solutions and a good contingency preparation.
4. Better customer service
Agile Methodologies believe that the attention must be focused on people, since they are the ones who make processes and projects happen. Because of this, they do everything they can to boost the agents related to projects, especially customers. The service will be better, because the pursuit for customer satisfaction will be in first place.
As you might notice, the Agile Methodologies offer many benefits to IT management. Therefore, their use becomes an important investment to be made. What other advantages do you believe that the Agile Methodologies ensure for IT in your company? Tell us in the comments and give your suggestions about the use of this tool!
Subjects related to this Post
Learn about the Framework Safe methodology
Learn about the Scrum methodology
How to effectively manage an IT team?
How can CIOs stimulate innovation in IT?