Remote IT monitoring with NOC teams (Network Operations Center)
The Information Technology (IT) environment requires constant care to keep it fast and efficient and for the company to remain competitive and viable in the global economy. Today, all business processes are supported by technology, from the shop floor to the commercial area. For this reason, it is important that the entire IT infrastructure be monitored. This monitoring can be done both internally and externally, as well as remotely.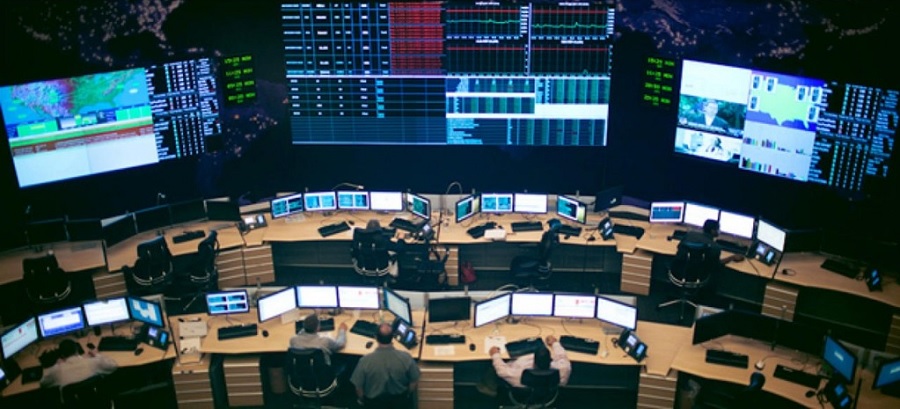 Because companies in general have limited resources, having an outsourced staff to monitor network behavior and the availability of any IT environment is a solution that can be effective. The initial process consists of installing data collection tools on workstations, servers, the network and the rest of the entire infrastructure
These data come as activity reports that inform when there are failures. They are valuable information, as defects in technology can be very harmful to the organization. The concept is especially useful for small and medium businesses, which usually do not have an IT department, or very large companies whose administration of these processes can become a complicated task.
Below you can see a Dashboard developed on the OpMon monitoring platform to monitor key infrastructure items with alerts on the latest incidents. This is a typical Dashboard where an outsourced team can track their customers' infrastructure in real time and quickly discover problems when they occur.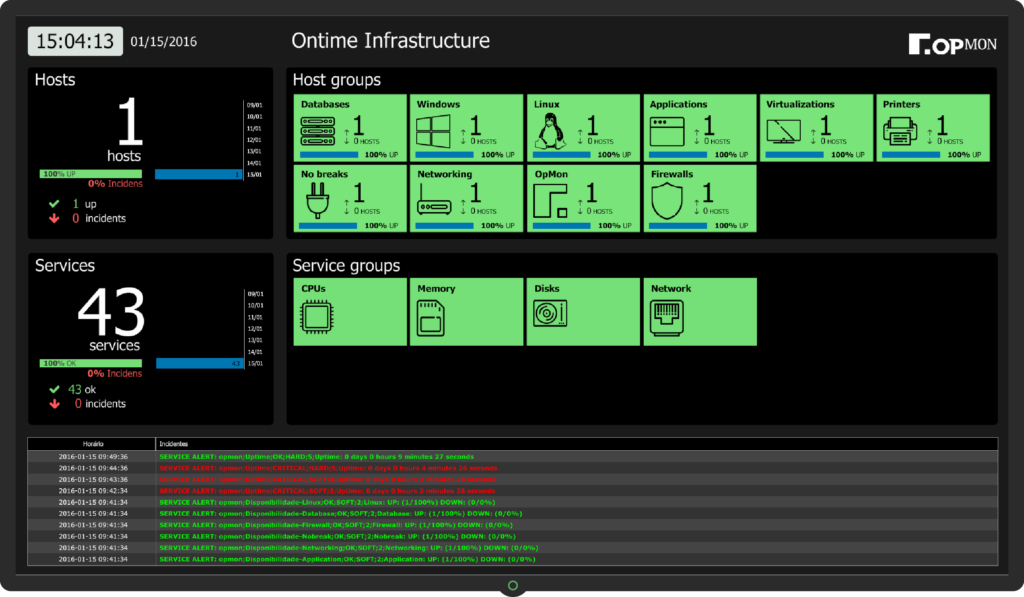 When a red alert appears on the Dashboard notifying a failure, e-mail, SMS (Short Message Service) or Push technology alerts are automatically triggered to the specialists in charge. This type of monitoring allows problems to be solved by specialists at any time of the day.
REQUEST MORE INFORMATION ABOUT THE NOC SERVICE
At any time
The Network Barometer Report 2016 indicates that networks monitored have 69% faster response and repair time 32% lower than those that are not managed. The study shows that ⅓ of the incidents are caused by human configuration or error and that 75% of the networks have at least one security vulnerability. All these failures reflect in financial results because it is very expensive to allocate several professionals to solve problems when one does not know yet what they are.
Network problems can happen at any time and disrupt the organization's productivity. Therefore, having an outsourced team remotely taking care of the system allows the management and monitoring of activities to solve difficulties effectively and from anywhere. And what's more: Troubleshooting is faster and active maintenance can be automated. Check out other benefits of this process:
Saving time and increasing efficiency
By saving time and reducing expenses, increased efficiency comes naturally. The organization can then apply its resources in other areas, as it does not have to manually track and compile the IT asset inventory (patches, software and hardware upgrades) of the company or move professionals from different areas to solve problems when they happen.
With automatic tracking, all network equipment is monitored with real-time information, sparing weeks of intensive labor. Another advantage is that teams have the possibility to share potential problems from expert professionals' experience, which results in greater efficiency and better accuracy.
Automatic data collection
Remote management and monitoring provide essential information about the network and areas in need of improvement. This saves hours of work for the IT administrator and is a great ally in fast problem resolution on the network. In addition, with the network being continuously verified, information about IT assets is automatically sent.
Active maintenance and early detection
An active maintenance process allows routines to be performed to ensure greater stability and security to the IT environment. Software updates and virus definitions, critical information backups and major system maintenance can be automated through scripts and automation tools. Usually this is a differential that a NOC team offers to its clients. This gives greater peace of mind to managers and greater stability to the infrastructure.
Remote monitoring can be done 24 hours a day, seven days a week, 365 days a year. Whenever there is an irregularity in the network, at any time of the day or night, an alert is sent and the error can be immediately solved so that there is no decrease in productivity or periods of inactivity.
If there is no remote management and monitoring, a problem can go unnoticed for days or weeks, which makes it more serious and more expensive. Usually the NOC teams also make available 8×5 (8 hours per day, 5 days a week) or 24×7 teams, monitoring up to 24 hours their clients' infrastructures. This possibility can reduce expenses with overtime and labor causes since the agreement is made directly with the contracted company.
Minimizing interruptions
Problems in the network must be dealt with agility and in a correct way. Periods of inactivity can be costly, even with customers willing to change suppliers. Thus, continuous remote management and monitoring helps improve customer service.
Although failures can come in many forms, when the network is regularly monitored, even the smallest problem is detected and immediately corrected. Thus, downtime and productivity loss are minimized. Click the button below to learn more about this type of service and get to know our partners who specialize in the subject.
OpServices does not (directly) provide NOC services. This service is provided by our partners using the OpMon monitoring solution. Click the button below and ask for more information: