To increase your competitiveness in the market and assure the best processes within your company, you certainly counts on several tools of Information Technology. They are very important when managing, controlling, and assuring the quality of all your products and services. Now, imagine a set of practices that may align all such resources, such as software and systems, with the purposes and guidelines of your company?
Well then, it is IT Governance. Created with the purpose of planning and preparing strategies that may provide competitive advantages to the IT tools implemented in a company. The GTI practices promise to create services absolutely reliable and available so that you may reach the excellence of your business.
Are you curious to know more on IT Governance, its advantages, and how it may be applied in your company? So, don't waste more time and check this post with more information and hints on this practice!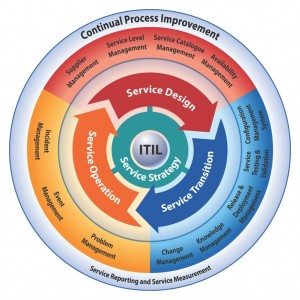 More on IT Governance
The IT Governance is, basically, an "extension" of the Corporate Governance (set of actions, policies, rules, and processes that govern a specific organization) directed towards the management of tools, resources, and solutions in IT. When implemented, it shall be adopted by all users of software and systems, including manager, audits, and officers.
Among such actions described in the set of IT Governance, are the practices that assure the information safety in the processes performed within a company, availability, and full working of the information technology and durability of the whole system implemented in such corporations.
GTI Frameworks
To implement IT Governance in your company, it is important that you know all frameworks – in other words, work templates – which provide the metrics and what shall be made to assure the efficacy of this practice.
The main GTI frameworks are:
Cobit (Control Objectives for Information and related Technology)
It is the work template more used in IT Governance and is in its version 4.1. It presents resources that include executive summary, controls of purposes, audit maps, indicators of goals and performances, and a guide with management techniques. Its management practices are recommended by specialists of the area and it may be used to test and assure the quality of IT services provided, using an own system of metrics.
ITIL (Information Technology Infrastructure Library)
It is a framework intended to the public and not to the owner. ITIL defines the set of practices to the management of IT services through "libraries" that are part of each management module. Thus, differently from Cobit, it is a template more focused to the IT services themselves.
PmBOK (Project Management Body of Knowledge)
This framework is intended to the management of projects of the area and to improve the development and actuation of IT professionals. All definitions, sets of actions and processes of PmBOK are adescribed in its manual, which exposes the abilities, tools, and techniques required to perform the management of a project.
How is GTI able to help my company?
Now that you know a little more on IT Governance, it is required to know a little better on its advantages and how it may help your company. Basically, the implementation of its practices promotes the safety of all information that circulates inside its systems and software, as well as it assures the durability and efficacy of all IT resources that are in an organization.
Thus, it is possible to:
Avoid that confidential data and information on your company are leaked, causing great damages to your business;
Assure the automation of the process and of the specific tasks, so saving time and money;
Assure the efficacy and facilitate the use of the IT tools and resources within your company, because with their implementation there is less risk of bugs, stops, or factors that compromise their working;
Improve and innovate the management, marketing, and sale processes of your business, so making your company more competitive;
Forecast the problems and the risks that may hinder your business and, thus, assure more accuracy in your decisions.

Better know the whole working of the IT Governance and its advantages since it is the first step to its implementation, in order to assure the improvement of your services and products. If you felt attracted by the idea, do not hesitate in trusting and investing on it. It is the best way of being successful in the use of IT in your company.