What is the real importance of monitoring network traffic?
With OpMon Traffic Analyzer you can monitor and manage all kinds of data traffic across the network of your company. The analysis is essential to understand the behavior of the resource utilization and to identify problems and bottlenecks. Through a user-friendly interface, users can have a web browser to navigate through traffic information of the real-time solution and get a detailed analysis of the status, the type of traffic and who are the main consumers of their network resources.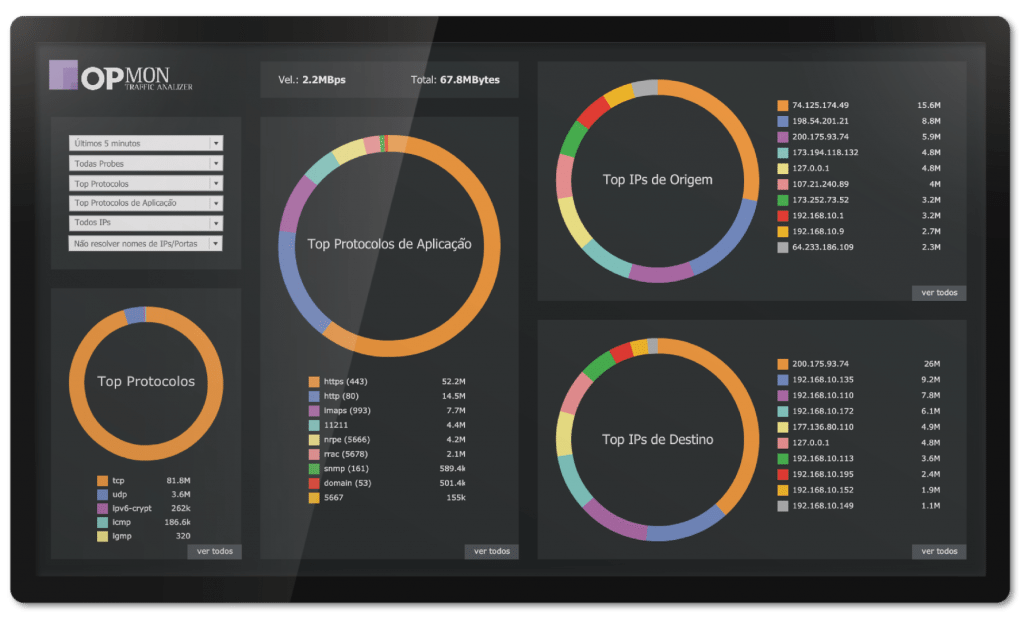 1. Understand the traffic behavior of your organization
Discover patterns and bottlenecks on your network by examining the behavior of the network utilization. From this information it is possible to make use of an action plan for improving the use of your company's network, identifying the IPs that consume more band and what time that consumption becomes more critical.
2. Identify the source of the problems generated by traffic anomalies
By analyzing the behavior of your network, you can conclude that the misuse of the Internet by employees in the companies may be making it slower, such as for access to social networks, Bit Torrent, among others. From the best known ports you can find out where the network bottlenecks are.
3. Validate the impact of planned changes in the network
Mapping the behavior of your network opens some ports to measure impacts occurring from planned changes, for example. Measuring the network consumption before applying a critical change and validating the expected behavior in the future can be a useful tool for the network environment administrator or manager.
4. Discover the root cause of network congestion
From the real time behavior of the network consumption and historical data it is possible to perform an analysis of the network congestion root cause. This can be accomplished based on time cuts to identify, at a specific time in which there was a problem, the existence or not of a nonstandard behavior or any type of application with a high rate of traffic.
5. Measure the links consumption of each application or user
Often we have no idea of the actual consumption of all applications that use the data traffic on the network and what are the company's users or sectors that consume more bandwidth. Proper measurement allows, among other things, to calculate the cost of a project from infrastructure indicators, such as the network, and even identify anomalous behavior.
Want to know more?