Now it is you who is going to keep an eye on the revenue!
It is possible to monitor the transactions that take place within the system of electronic invoice authorizer of the State Tax Authority (SEFAZ), showing the time used in user processing (customer), communication network and server by means of OpMon.
With OpMon it is possible to check the implementation status (if it is completed successfully or not) and response time (total or in stages) through the website of the State Tax Authority. The information are stored and consolidated in the database of the OpMon core and, together with the level management module and service (SLM), they allow you to manage the availability and the performance (response time) of the NF-e (electronic tax invoice) authorizer system.
Monitor and manage the service level (SLM) of the electronic tax invoice (NF-e) system.

User transactions are simulated in the NF-e authorizer system, monitoring and recording their behavior, in conjunction with the configuration items of the IT infrastructure supporting the system. The transactions simulator stores all availability information and performance of the monitored application system in management platform database.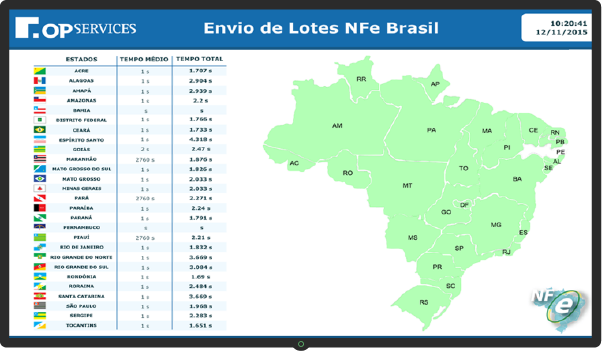 OpMon NF-e module can perform multiple concurrent transactions, registering the availability information and performance treated individually by origin or destination. It enables the IT Manager to monitor the service level that the users of the application system effectively receive.
Avoid the worst scenario!
When the electronic invoice is not working because the Sefaz link is unavailable, deliveries are not processed. This issue creates a large logistic loss. With the electronic invoice OpMon module it is possible to find out this information and, in real time, minimize the problem with the contingency provision. 24 hour monitoring and management in real time of the electronic invoice, thus ensuring control of the quality level of service. Click here for more information.