What IT Management can do for your business
IT monitoring is vital to all organizations that need to take control of their infrastructure and give support to their systems. By means of this management of the IT environment, it is possible to measure the availability of assets, generating capacity reports, SLA (Service Level Agreement), SLM (Service Level Management), performance, among other key indicators.

By monitoring IT it is possible to solve some problems faced by most managers such as:
Failures in systems that immobilize resources;
Difficulty in qualitatively measuring indicators;
Systems that are slow without the manager having knowledge of the subject;
Users notice problems before IT;
Or IT is not yet aligned to the business company.

To solve these and other problems, we have developed OpMon, a software for monitoring IT infrastructure. The platform is fully flexible, with intuitive usability, and it allows going beyond the basic infrastructure monitoring.

The solution enables the management of indicators of business processes. Managers can see, in real time, the performance of their applications from the point of view of who actually uses them: the user.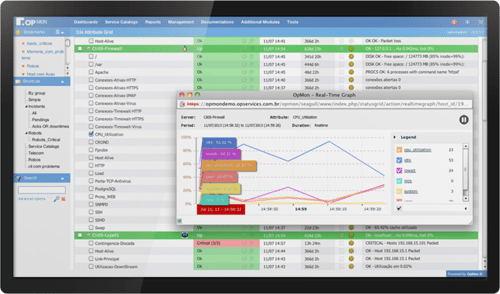 Concern with user's satisfaction
Surely everyone has their concern and experiences it in their day-to-day. At the edge of the business, the sectors of production, sales, logistics or service, for example, only want to know if their applications are available and have a good response time.
The IT manager needs to have a detailed view of all IT elements that compose and support a given service in order to be able to deliver this result to the whole team.
Reports
Reports are still very important to improve the management of IT. However, for an efficient management it is necessary to generate information that convey the vision of the business and serve as a resource for decision making. I.e., the reports need to present relevant data for policy makers to anticipate the problems and resolve them before they impact the business.
Functionalities
On a closer look, one can predict when a particular hard disk will run out of space and, based on this information, take action before the problem occurs. OpMon also has the ability to integrate with the main Service Desk systems, automating the alert with the opening of the incident. That is, ITIL in practice.
OpMon also adds several other features such as qualitative analysis of network traffic, integration of various IT platforms logs, control of SLA and SLM, catalogs of IT services, event correlation module and other features that make our platform one of the most complete in the market.
Certainly the vision that draws the most attention from managers within OpMon is the dashboards. With a tool for creating and editing native dashboards in OpMon it is possible for its users to give a wider visibility of the status of IT services through LCD screens, which can be easily understood by managers from other areas and thus facilitate the flow of strategic information to the business within companies.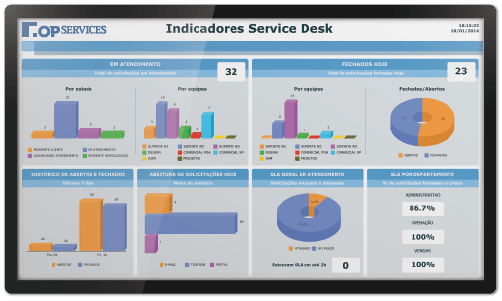 What is the value of the control panels with indicators based on monitored items of IT infrastructure and business processes for making decisions in real time?
For our customers this represents a major competitive advantage!

Read also: Eletronic Tax Invoice, Network Monitoring, Database Monitoring, Application Monitoring, Virtualization & Cloud Monitoring, Oracle Database Monitoring, Business Process Monitoring.