OpMon Traffic Analyzer
See what goes through your network: through OpMon Traffic Analyzer you can monitor and manage all kinds of data traffic across your company's network. The analysis is essential to understand the behavior of resource utilization and to identify problems and bottlenecks. Using a user-friendly interface, users can use a web browser to navigate through traffic information of the real-time solutions and get a detailed analysis of the status, the type of traffic and who are the main consumers of your network resources.

The 5 main reasons to purchase our product:
Understand the traffic behavior of your organization;
Identify the source of the problems generated by traffic anomalies;
Validate the impact of planned changes in the network;
Identify the root cause of network congestion;
Measure the links' consumption of each application or user;
Identify the applications that consume more bandwidth.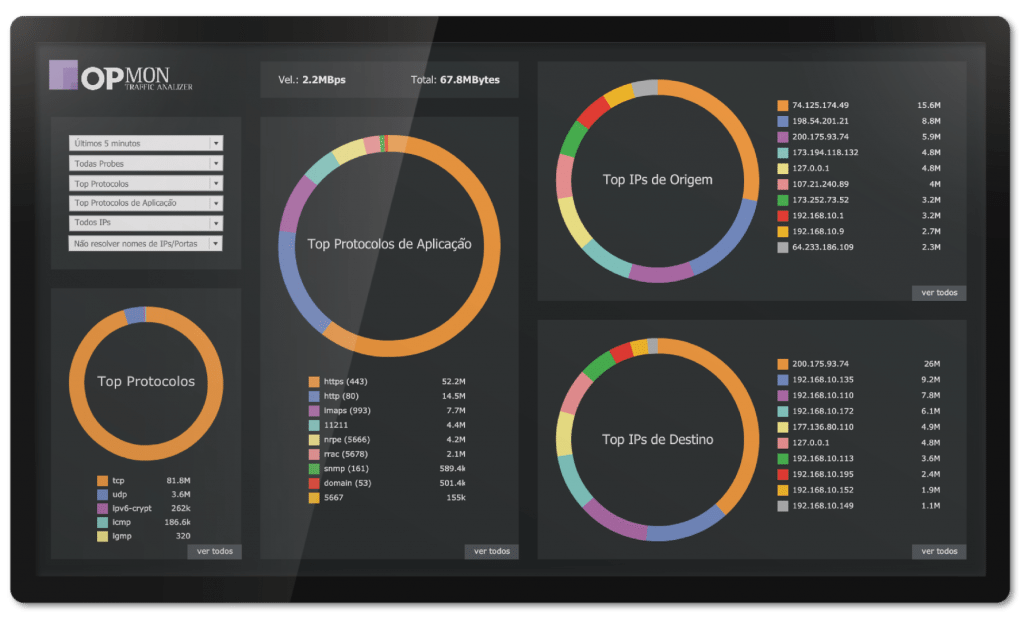 Links Analysis
Checking time of latency and packet loss, allowing % of monthly availability;
Quantitative and qualitative usage charts;
LAN and WAN network traffic collection module, identifying types of protocols trafficking and to which applications they belong as well as who are the generators/consumers of this traffic;
Collection of information without having the process cause unavailability or interruption in Wans links or on the local network.
Features
TOP traffic utilization Dashboard;
Dashboards with drill-down network traffic;
Unlimited Probes;
Store up to 2 years of traffic data;
Support to sFlow and NetFlow 5 technologies;
Drill down from different combinations of the sFlow, NetFlow fields and Probes;
API for custom reports and alarms;
Real-time reporting and alerts;
Full integration with OpMon for alarms and capacity planning;
Monitoring agents for traffic analysis.
With OpMon network management it is possible to avoid:
Unnecessary expenses with investments above the demand and high costs/hour with human resources involved in identifying problems on the network.
Mais informações:
Can I test OpMon Traffic Analyzer (OTA)?
Yes, OpMon Traffic Analyzer can be installed and tested for 30 days with 100% of their available capacities. After 30 days, OpMon Traffic Analyzer will stop collecting and displaying the information.
How is the licensing of the product?
OpMon Traffic Analyzer (OTA) is licensed for life without unlimited probes. Annually you can renew your license to get upgrades and support.
In addition to the network, can I monitor the IT infrastructure?
OpMon Traffic Analyzer (OTA) comes with embedded infrastructure monitoring module, with the limitation of 10 devices. In order to manage more devices, it is necessary to request a proposal, since licensing is based on the number of monitored devices.
What are the product's support options?
OpMon Traffic Analyzer (OTA) entitles you to three (03) support incidents via the OpServices portal per year. It also entitles you to receive new releases and access to OpServices knowledge base. Additional support may be hired if necessary, but the software has a very user friendly interface and complete documentation.
Is it possible to view the content that travels over the network (images or passwords)?
No, OpMon Traffic Analyzer (OTA) does not display this type of information once the Netflow Protocol itself does not have these data, only the protocol type and the size of the flows are informed.
Does the software require firewall ports to be opened?
It depends. If your router/switch (with Netflow enabled) has a firewall between the server where OTA is running, then Netflow door should be authorized to pass through the Firewall.
Do I need to install an agent?
If you want to get data flow to a device that has no Netflow support you will need to install a Netflow probe. In the case of devices that have support for Netflow, simply enable the use and submission of flows to OTA.
How long are the data collected stored?
OpMon Traffic Analyzer (OTA) allows the storage of data for up to 2 years, which is a great advantage of the platform, because it allows you to generate history reports of long-term Capacity Planning.
Can I receive alarms when problems occur on the network?
Yes! Since OpMon Traffic Analyzer (OTA) is strongly integrated with the platform, OpMon alerts are collected by OpMon and follow the stream to send alarms in the platform, and can be viewed by the OpMon interface or be sent by email and/or SMS.

Read also: Eletronic Tax Invoice, Network Monitoring, Database Monitoring, Application Monitoring, Virtualization & Cloud Monitoring, Oracle Database Monitoring, Business Process Monitoring.